d.Code Mobility was established as a proprietary limited company, that offers Enterprise Mobility Solutions for medium to large enterprises in Africa. Simply put, d.Code Mobility is a mobile technology enablement company that aims to assist clients in realising true value from their substantial ERP system investment, through leveraging the possibilities that mobile technology offers their business.
Our Approach
Our proven methodology ensures we deliver on time, to budget and exceed expectations time after time after time...

What we do
We are not only skilled software developers; we are also professional mobility consultants, who can deliver mobility projects, on many of the currently available Mobile Enterprise Application Platforms (MEAP) available on the market.
Employing our own in-house developed mobility platform, we have established several mobile centric software products to address specific business challenges across industries: SAP Mobile Enterprise Asset Management, SAP Mobile Inventory / Warehouse Management, Mobile Proof-of-Delivery and Mobile LIMS Automation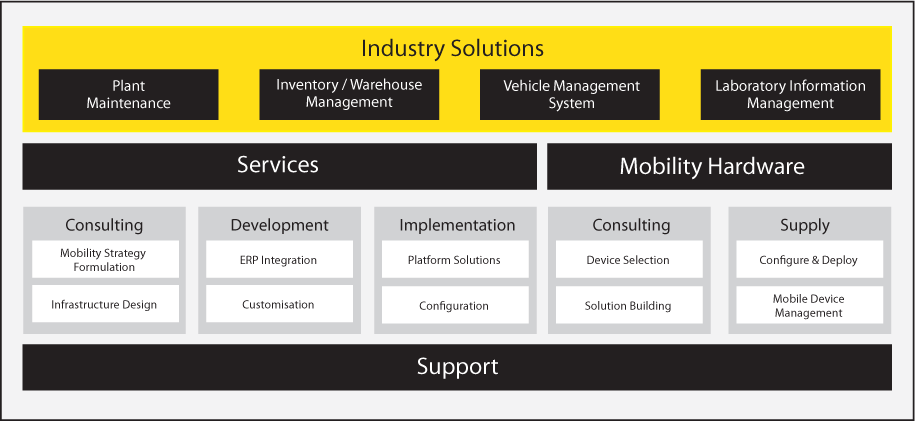 Values
Transparency - We are not afraid of being honest with ourselves, our staff and our customers.
Integrity - We are each personally accountable for the highest standards of behaviour, including honesty and fairness in all aspects of our work
Develop With Heart - We really care about what we are making and doing and who we are doing it for – it's a mission, not just a job and we strive to do what is right
Balance - Take into account how our initiatives and decisions will affect our colleagues customers and stakeholders
Team Effort - Everyone should feel like they work with d.Code Mobility and not for d.Code Mobility. Have fun whilst contributing to the d.Code Mobility team
Promote Positive Change - Whether at the office or our in the world, we promote and create positive change by constantly looking for ways to improve d.Code Mobility, its products and the environment
Vision
To become the de-facto of fit-for-purpose enterprise mobility solutions, independent of the platforms our clients utilise, for the mining, industrial and manufacturing industries in Africa and the Middle East. d.Code Mobility develops partnerships with our clients and keeps abreast of technology trends to ensure that unsurpassed competency evolves in our products and services. d.Code Mobility will become an employer of choice in the mobility industry.
Mission
d.Code Mobility will provide the full spectrum of innovative enterprise mobility related services, including but not limited to pre-sales consulting, project management, change management, installations, training and post deployment services as well as integration and fit-for-purpose development through our competent mobility specialist team and mobility solutions. Our client-centric approach ensures that the mobility solutions applied are in the best interests of the client's business.
BBBEE
d.Code Mobility is a Level 4 (Four) contributor and a Value-Adding Enterprise as defined in the Codes of Good practice on Broad-Based Black Economic Empowerment.